We promise to provide energy for everyday life without failing, to contribute to the improvement of the quality of lives, and to provide "products" and "services" that are environmentally-friendly, safe and of high quality. At the same time, our management policy is to promote mutual-beneficial activities with the local communities.
Supply, delivery, check, and security of LP gas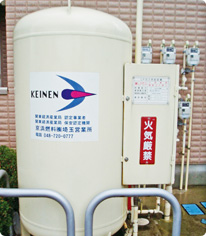 All employees consider the safety as our No.1 priority, and provide steady supply of LP gas so that our valued customers can live at ease. Moreover, the visitor's safety is ensured by "the contact 24" for 365 days for 24 hours. When abnormalities occur, it is coped with promptly.
Sale, a maintenance, and repair of the gas related product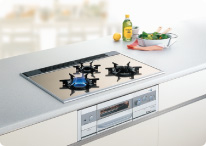 We have wide range of LP gas-related products, e.g. built-in moveable cooking stoves, gas fan heaters and dishwasher-dryers. Additionally, we provide clear-cut product information and post-sale services such as maintenance and repair to cater individual needs, which we are confident that meet the expectation of our valued customers.
Reformation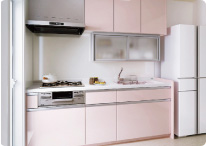 Our service also includes professional advising, based on our long years of experience with LP gas supply, to kitchen and all other house refurbishing, meeting your needs and budget. We do exchange of a gas pipe and a water pipe. Construction of a gas cock is also carried out.
Sale of an eco-related product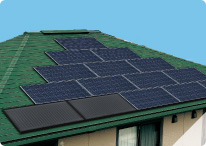 We are committed to produce environment- and customer-friendly life style, by emphasizing the sales and installment of ECO WILL,  photo voltaic generation, condensing boiler, and fuel cells(ENE-FARM). ECO WILL and ENE-FARM is a household cogeneration system that generates electricity with gas, a clean energy, and uses the residual heat to warm rooms and water supply.